Lavender toilet hire and cleaning products was established in 2011.
We specialize in portable toilet rental, cleaning of septic tanks, decontamination, deep cleaning, sanitizing, and cleaning for all industries. Lavender Cleaning has a specialized team who is compliant to the new COVID 19 regulations. We can issue your company with a sanitization and compliance certificate as required by the government gazette. With our trained and qualified staff, we will help you to keep your doors open and train your staff on how to clean properly and not cross contaminate surfaces. We care about the earth therefore making use of environmentally friendly cleaning products that are AFFORDABLE and recommend them for all customers.
Our products are certified as the BEST in Africa with various accreditations in place. Most of our products are created with bio enzymes and SABS approved. Bio Enzymes are still working on your surfaces after 6 to 8 hours as where normal chemical products only last up to 20 minutes. Our solutions works with specially selected bacteria and natural enzymes to break down dirt and grease into organic nutrients which are then released safely back into the environment. The key benefits are that harmful chemical compounds are not released into the atmosphere or into our water systems and also that your workers are not exposed to toxic fumes and chemicals. This increases safety and productivity while reducing staff absenteeism. Also, the more regularly the Bio Enzyme products are used, the more effective they become. We believe that it is crucial for you, your staff, family, and friends to stay healthy and keep your doors open. Stop using harmful chemicals that can cause damage to your lungs and cost you a fortune.
Our go green cleaning products are safe for children, animals, and food.
WE USE THE POWER NATURE HAS TO OFFER
Our products use the power nature has to offer, the power of enzymes to destroy bad bacteria, and remove dirt and organics, rather than just moving them around. We use the most sophisticated enzymes available in South Africa to produce the ultimate green cleaning products that are friendly to people, animals and the environment.
In their natural environment, bacteria produce hundreds of enzymes in response to the organics present in their environment. They produce extracellular enzymes that break down proteins, starches, fats, oils, greases, urine, esters and toilet tissue into smaller particles outside the bacterial cell. The bacteria then transport the smaller particles across their cell membrane for use as an energy source and for building of new cellular components. Since bacteria detect the organics present as potential food and produce specific enzymes to breakdown these organics, it is a very efficient system.
Enzyme-based cleaners are especially useful for biofilm removal (this is a hood" that bad bacteria hide under, which chemical cleaners can't penetrate). Bacteria are somewhat difficult to remove with traditional alkaline or acid cleaners. Enzyme cleaners are more effective on biofilms since they work as proteases by breaking down proteins.
Enzymes also offer lower cost and greater efficacy, reduced wastewater generation and energy savings through the use of cold water. After washing, the biodegradable surfactants and enzymes will break down and can safely be absorbed back into nature.
Our certified product range has a huge variety of different products because we understand that not everyone's needs are the same. Each product has a MSDS (material data sheet) available on request. Just to name a few we have; bio-enzyme foam hand sanitizers available for children, hands free foot pedal stands, bio-tech liquid and body gel, bio-tech probiotic surface and tunnel sanitizers, degreasers, all surface kitchen cleaners, bathroom cleaners, deep cleaners, waterless spray, wipe products and lots more!
Lavender cleaning products also specializes in disinfecting cleaning products for pit toilets, portable toilets, urinals, and septic tanks.
We deliver a service in Pretoria, Brits, Delmas and Kriel. We have a client base nationally and have a valid export licence.
Decontamination & Deep Clean Service
LAVENDER CLEANING offering superior cleaning and sanitising solutions.
The health and safety of our customers and staff is our top priority. We only make use of the best Organic cleaning products in South Africa. Kind to our health, food, water, environment and all surfaces. All products are certified, accredited with MSDS available. Our products breakthrough the BIOFILM to demolish dirt and eradicate infectious diseases and destroy harm bacteria.
DEEPCLEANING
SPECIALSIST in Hygiene service

Roof, Gutter and Paving Cleaning

 Pre & Post Occupation Cleaning

Clutter cleaning / Hoarding clearing / Junk removal

Decontamination, Sanitizing and Disinfecting Service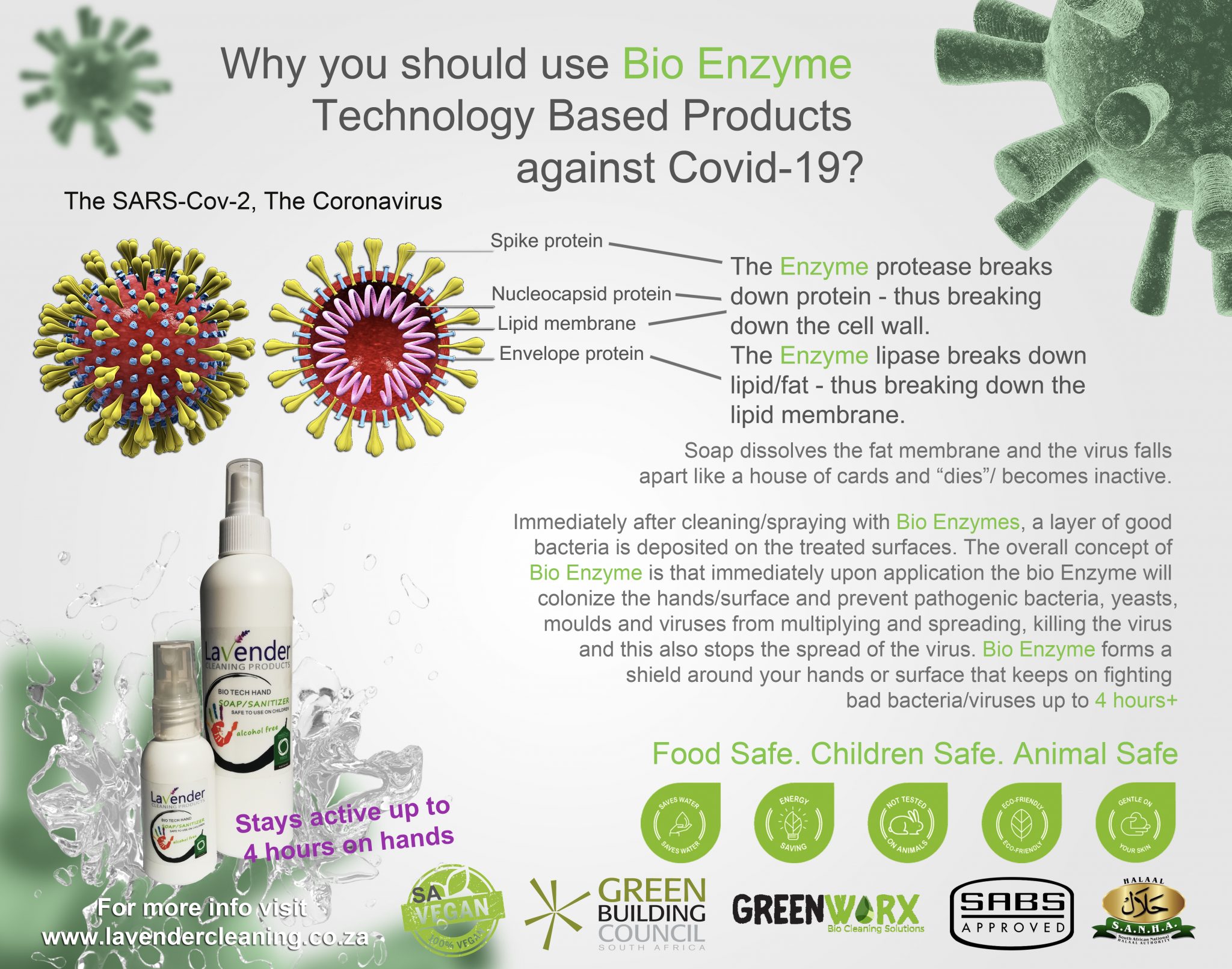 We can help with Covid - 19
Lavender cleaning products available for Wholesalers
our product brands and rentals
info@lavendercleaning.co.za
Karen      083 407 1283
Belinda   072 486 0220
Office      087 822 1309
428 20th Ave, Villieria, Pretoria, 0186
7h00 – 16h00 Monday to Friday
8h00 – 13h00 Saturday
Closed Sunday
Emergency After hour Number: 083 407 1283